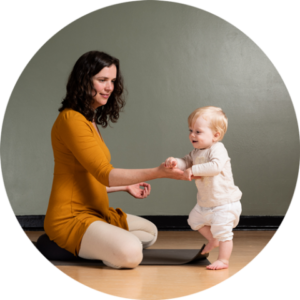 Less stress and a happier family life?
Then you can't miss this free masterclass mindful parenting.
Together with you baby you'll learn the fundamentals in an hour!
Friday Februari 18th
10.15 – 11.15 Amsterdam time
9:15 – 10:15 Irish Time
Together with your baby (0 – 18 months), via Zoom.
You love your baby to the moon and back. And it can be heart achingly beautiful together.
But let's be honest, parenting is not a walk in the park. You're available day and night. You're giving it your all, but you can't always be the best version of yourself.
How to you care for you baby with ease? How to enjoy this precious time in your life?
You are laying the foundation for your baby. You have the most important job in the world. And one of the heaviest.
You can be tested to the limits: inconsolable crying or separation anxiety, trouble with sleep or feeding. And on top of that: everything changing continuously.
Maybe you're surviving on auto-pilot. You probably would love a whole lot more 'me' time. But chances are that you have difficulty switching off when you want to.
Well, you are not alone.
Exhaustion, burn-out, depression, anxieties – unfortunately – are all common with parents.
From time to time, most parents are just trying to survive. Or they are secretly waiting for this phase to pass.
But your baby grows up so fast. Waiting it out… is such a shame.
So stop surviving on auto-pilot!
You don't have to! Or at least a lot less than you think.
Life can be easier, healthier and happier.
And mindful parenting can help you.
The good news: you too can learn mindful parenting!
Mindful parenting is in many ways like playing the piano. It can be learned through practice. And it all starts at dealing with stress in a healthier and effective manner.
Join the free masterclass and I'll teach you the fundamentals. We are going to practice together. And I'll give you tips and tricks that you can apply immediately.
Experience it yourself: how to stop during stress, read the needs of your baby and relax together.
In your toolkit:
Knowledge about the workings of stress – both in you and in your baby.
3-Minute breathing space – to take a break and reset your mindset.
Parent-child breathing space – to help you both in stressful situations.
Observing your child with full attention – to help you both to relax, and to be fully present with you baby. An all time favourite: many parents spill over with love during this exercise.
And we'll take time to share our struggles and triumphs together.
Would you like to learn more than the basics?
Then I'll tell you all about the online group course Mindful with your baby, starting March 11th.
So give yourself and your baby the best start possible and begin with mindful parenting today.
---
Practical information
Friday February 18th
10.15 – 11.15 Amsterdam time
9:15 – 10:15 Irish Time
Together with your baby (0 – 18 months), via Zoom on your tablet, laptop or pc.
Reserve a spot below. After sign-up you'll receive a email with practical information within a day. Please add Mindful with your child to your address book – we sometimes end up in spam! Did you not receive a mail and you checked your spam? Get in touch!
When you sign up for the masterclass, we have some little extras for you. You'll be added to our mailing list and from time to time you'll receive tips and tricks in your mailbox. But best of all: you get free access to audio downloads to kickstart your mindful parenting practice. Of course you can sign off anytime 🙂