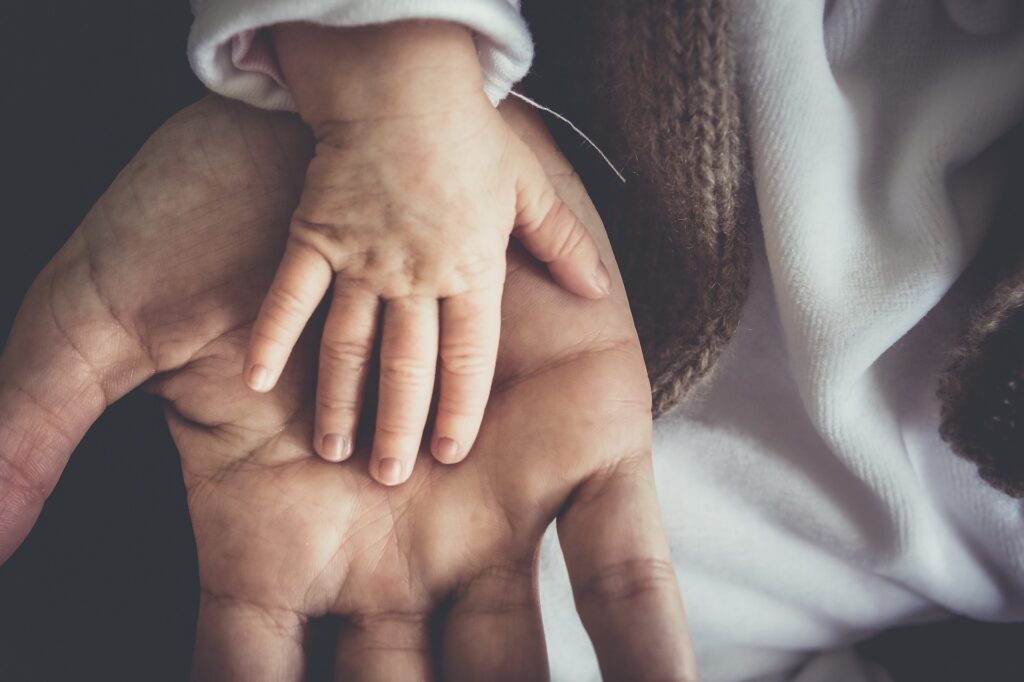 You want to give your baby the best start possible.
We help you to move past surviving, and relax into your life together!

Get in touch to learn more about an individual course.
At the moment there are no group courses scheduled.
Dive deep into mindful parenting together with your baby (0 – 18 months).  Sign up, and together we look at what your family needs – no strings attached!
Try before you commit?
🎁Join the free webinar on September 1st!🎁
Heart achingly beautiful, overwhelming, exhausting.  Life with a baby is intense. A newborn needs about 7 hours of care a day. And it is a big responsibility to care for such a vulnerable little person. On top of that everything changes: work, relationships, your (new) role as a parent. No wonder many parents fall into the trap of just getting by.
When the auto-pilot takes over, you're no longer able to simply be present in the moment. You forget to savour the happy moments of connection, and to give the undivided attention your baby needs.
Escaping into your phone is an easy temptation. Especially when you are struggling with exhaustion, burn-out, anxiety or depression. And no surprise. Parenthood can be stressful. For many parents this is one of the toughest phases of their life.
You have the most important role to humankind.
Right now you are laying the foundations for your child's life. With a bit of luck your baby will develop into a balanced and resilient adult. You want the very best for your baby. But it is hard to stay confident when difficulties arise.
Trouble with feeding, sleeping or cramps, inconsolable crying, how do you deal with it?
When you are struggling, it is hard to tune into your babies needs. And then there is a serious risk of just letting this phase pass by. Not giving as much of the caring attention that is so vital to your baby's attachment and development.
But of course things do not have to go like this. It can be a happy phase for the whole family, including yourself.

With the right skills and insights you can create a family environment in which everyones needs are met. Then you you'll enter an upwards spiral, with a growing quality of life for the whole family.
Mindful with your baby can give you the necessary skills and insights.
Mindful with your baby offers you tools to let your family thrive.
"I recommend this to every family. If you want to be happy and feel good being a parent, it is necessary to be mindful of yourself and stay connected to your partner. That is why we want to continu to practice."
– Claudio, father of Fien (8 months) en Noor (2 years old)
Mindful with your baby will not teach you how to raise your child.
The course will not tell you what you are doing wrong, or what the matter is with your little one. Nor will it tell you what you need to improve about your child, or how you should change to become a perfect parent.
Too many books and courses proclaim to know what's right. And if things are different with you or with your child, you can start doubting yourself and lose your sense of direction.
But raising a child is a custom job.
Every family, every parent and every child are unique. Mindful with your baby trusts that you know what is fits your situation. Especially when you can be mindful of yourself, your little one and your specific circumstances. We help you to tap into your own wisdom.
Mindful with your baby is evidence based. It's designed to help you become the parent you envision. And not because I say so.
The program is evidence based. Mindful with your baby supports the development of your baby, and stimulates a secure attachment between your baby and you. It is designed to give you a solid foundation in mindful parenting, and is suitable for parents without, and with experience in mindfulness.
Developer dr. Eva Potharst of UvA Minds at the University of Amsterdam, based the program on the latest insights in developmental psychology and mindfulness. The courses are continuously researched on their efficacy. And as an instructor I collaborate with Eva to improve the course every time. Next to mindfulness and mindful parenting the course is based on the infant mental health vision. This vision maintains that a healthy relationship between parent and child creates the basis for a healthy and balanced development.
Mindful with your baby helps you both to lean into the ups and downs of life. You will learn to reduce stress, and develop the skills to care more easily for your baby and yourself. You will learn to relax in the moment, no matter the circumstances. By your example, your baby can internalise healthy habits. And then there is room for everyone to grow and enjoy each other.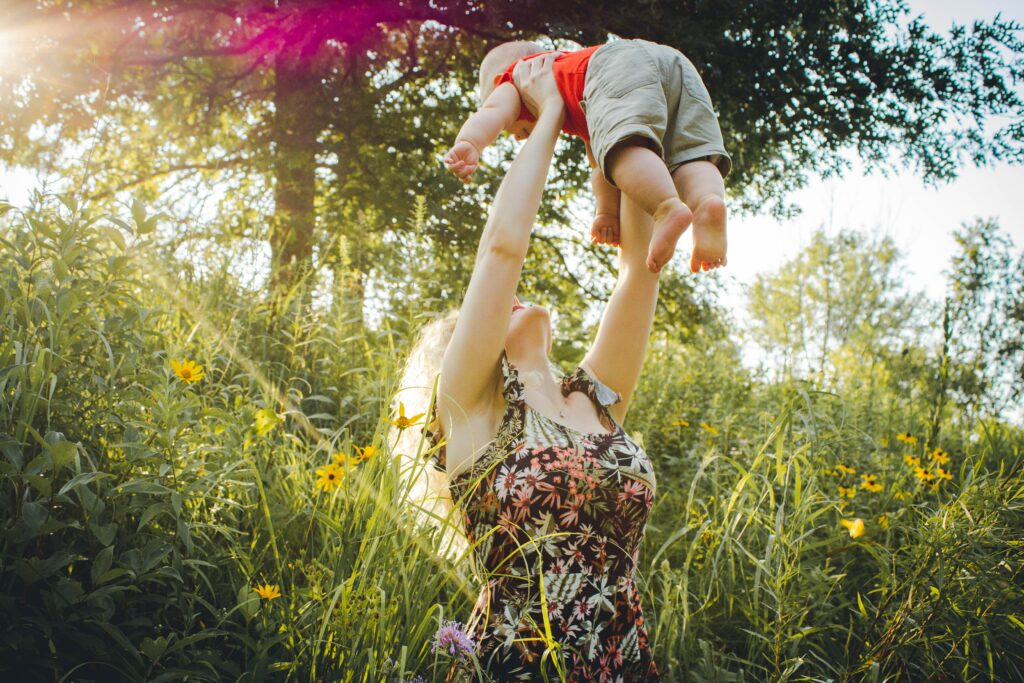 This is why your family will become happier.
Mindful with your baby teaches you all the basics of mindfulness. But it is much more than a classic mindfulness training. It is designed to help both you and your baby relax into life together. And to achieve this, the program has five crucial benefits that can make a world of difference in the quality of life for your whole family.
1.
You get a clearer picture of yourself.
You become more aware of what is happening within you, just like with a classic mindfulness training. But in this training also the effect of your behaviour on your family comes into focus. Sometimes this can be a bit confronting – I tell you this from personal experience – but it is a necessary step, and one that can serve you the rest of your life.
Rest assured, we will give you tools to guide yourself kindly, with clarity and compassion. It is crucial to cultivate kindness and care for yourself, life is demanding so much of you already.
We help you to make self-care easier and more pleasant. When you learn to create more room for yourself, more energy becomes available and you prevent acting out to family members. This is especially important during stressful situations with your little one. Plus it allows you to actually enjoy life together.
Result: you are the captain of your own ship. You can be more of the parent you envision and you can enjoy your precious little dote a whole lot more.

2:
Your child's needs are met with more ease.

You start to perceive your baby's signals a lot clearer. You'll be able to look beyond behaviour and recognise needs. And with your baby's needs more easily met, there is less distress in your family. Your baby's trust in you can grow, and so does your confidence as a parent.
Your insight in your baby's development will grow. We will provide you with information about stress and co-regulation as a basis of your child's emotional stability.
You gain a better oversight of your family member's needs, boundaries and possibilities. As mindful parenting consists mainly of skills, it can serve you the rest of your lives.
Result: your child feels safe, relaxed and can develop optimally.
3.
You gain insight into your family as a system.
You will give attention to dynamics and patterns that occur between you and your baby. You will also look into your own convictions about parenting. Even as a new parent, some old convictions can trip you up. Of course this also goes for the relationship with a partner. Many participants use these insights in their relationship. Including myself.
You'll become quicker in recognising where and when stress arises in your family. This enables you to discover alternatives to stressful situations.
You may find the limits of change within your family. It may be different in the future, but not everything is in your hands. Although it can be a bitter pill to swallow, it can help to acknowledge limitations and accept them with compassion. Energy that you may use right now for resistance, avoidance, of escapism, can become available for everything in you life that you do have and is within your possibilities.
As you gain oversight of the workings of your family, you become increasingly able to lead your family in the direction you envision. And this makes it incredibly valuable if your partner chooses to join the course as wel.
Result: your family enters an upward spiral, and together you can live more in the direction of your dreams.
4.
You'll master tools to reduce stress.
When you practice daily for two months, changes occur in your brain. You get triggered less by stressful situations. And when you get stressed, it becomes easier to stop fuelling stress. Lastly you have built up the skill to handle difficult situations with more ease.
Mindfulness is like learning to play the piano in many ways. You can read about it, or think about it, but you can only do it when you practice for some time. We often expect ourselves to 'do better today'. It can be incredibly frustrating to find that a lot of the time we're not in control of our own consciousness. I had difficulty with this, until I started to meditate and practice mindfulness on a daily basis.
During Mindful with your baby you learn to meditate, and to implement mindfulness in the relationship with your baby. We prepare you for a lifetime of mindfulness. If you want, you can continue to benefit from mindful parenting. And I know from experience that this can be achieved with you limited amount of free time!
Result: you become resilient to stress in the longterm, and it becomes increasingly easy to relax.

5.
This course was made with you in mind.
Life in a young family can be hectic. The program is therefore streamlined to your busy life. Exercises are short, concise and relevant to you as a parent. You get clear instructions and explanations and we stay available between group sessions. We support you in creating the best circumstances to practice. And the group sessions will help you with this. And yes, also with short exercises you can reap the longterm benefits that made mindfulness famous.
Your baby is with you during most group sessions. This is unique to Mindful with your baby. You can practice mindful parenting together with other parents. Supported by two trainers you will learn to shift your attention between yourself and your baby. This skill is crucial for the wellbeing of you both. It allows you to recognise when your child needs you, and when not. And then you can avail of time to yourself more effectively. You learn to keep an eye on your own needs, so you have more energy to enjoy life with your baby.
Result: you too can complete the program and develop skills that can serve you the rest of your lives.
Bottom line: meeting everyone's needs becomes easy.
As your awareness grows, your responses become more and more sensitive to the situation. With a clear view of yourself, in connection with your little one, and with an overview of your family. And that creates ease, harmony and happiness.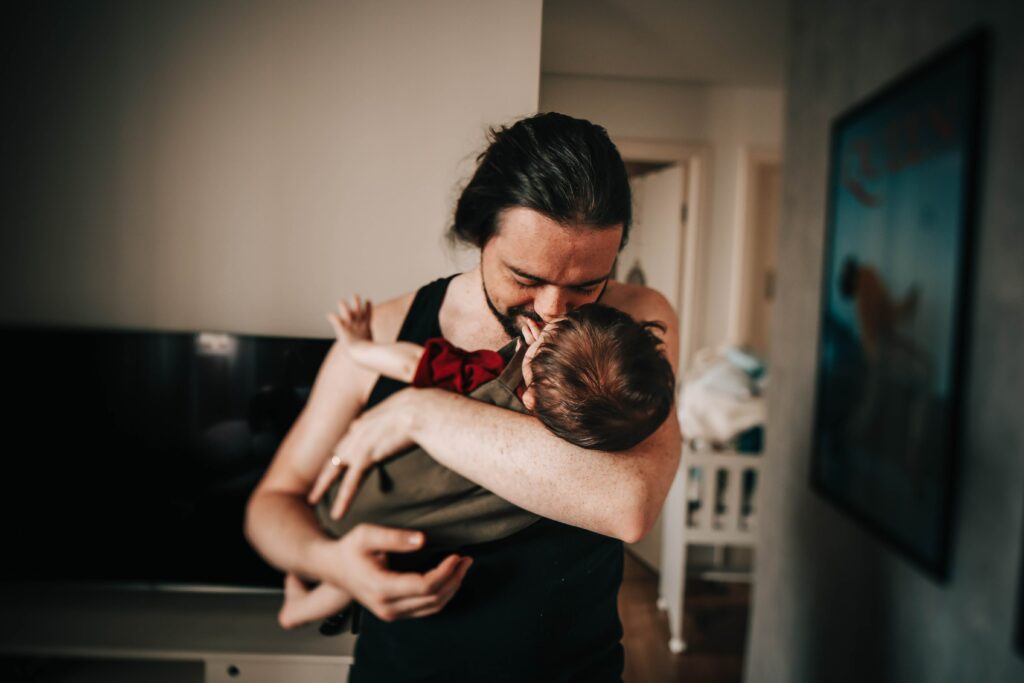 The program
What you'll learn:
to meditate
to handle stress effectively and regulate your emotions
to apply mindfulness in daily life
to tune into the needs of your baby
to create room for yourself
What we'll do:
Mindful with your baby is a practical program. Some call it an 8-week bootcamp. You'll be immersed in mindfulness, mindful parenting and compassion, until you can apply it in a way that fits you and your family.
The real work happens at home. You commit to practice daily for 15 to 30 minutes. You do many different meditations, and exercises that join into the flow of caring for your baby. You'll works with the e-book Mindful with your baby by dr. Eva Potharst. And are you facing difficulties? I'll be there to support you!
We'll see each other at the weekly sessions through Zoom, and you will receive the latest insights from infant mental health and developmental psychology. I introduce the meditations, you get background information, and we explore a new theme every week.
Most sessions are together with your baby – except for session 1 and 5. In group courses there will be an assistent especially for your baby! She'll keep a close look on how you both are doing, so that you can focus on learning, and even close your eyes…
Learning to relax means learning to make your peace with difficulty.
Who it's for
Every parent that is committed to take a long kind look at themselves is welcome. But you have to be able to commit to practice. This is not a feel good program. This is about actual brain change brought on by repeated practice. And practice can feel relaxing or confronting. Learning to relax means learning to make your peace with difficulty.
The investment is worth it. Especially if your struggle with life. Burn-out, depression, anxiety, exhaustion, physical problems or a life with a lot of pressure can benefit extra from mindful parenting. When the start of your family was difficult, it can be hard to let go of worries and stress. And research has shown that the bigger the stress, the bigger the benefits.
If your child needs something extra, sensitive parenting is key. For example your baby was born pre-maturely, has health problems, suffers from colic or has difficulty with getting comforted. Maybe your little dote is anxious a lot, or requests constant stimulation. Some children just don't like being a baby, with all the frustrating limitations this phase brings. Then the course can help you both to deal with the intensity in a healthy manner.
There can be many reasons to join the course. But ultimately it is for you if you want more connection with your baby, and to go through this magical period with full awareness.
 

Okay, I want to sign up. What happens next?
When you sign up, first you are added to our mailings and I will send you an invitation to schedule the intake.  I'll send you more detailed information on the course in advance, and during that half hour we'll have a close look at what you and your family needs. And does your family need something else than this course? No sweat, I'm delighted to have met you.
At the moment there are no group courses scheduled.
You are very welcome for an individual course, fit to size!
Would you like to join for free or at a discount? Take part in the research!
Developer Eva Potharst and the University of Amsterdam are doing research on the effectiveness of group courses. If you choose to join the research, you get a discount in return. With a low income you can even join for free! Read all about it.
Mindful with your baby – online group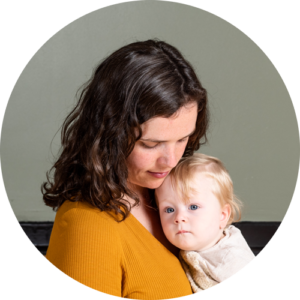 The package
Max 6 parents

Discount for your partner!

Guided by a trainer + an assistant

8 sessions of 2 hours +  return session

Intake of 30 minutes – no strings attached!


1-on-1 coach call of 20 minutes half way

1-on-1 coach call of 30 minutes aftercare

Your personal webpage with course information

E-book and audio included
Are the costs keeping you back? Get in touch and together we will look at the possibilities.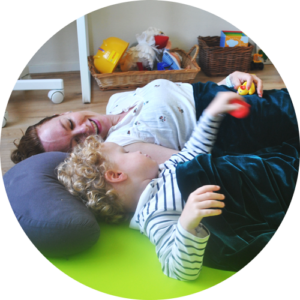 What parents say
Participants rate the program with a 9/10.
100% recommends it.
"I recommend it to every parent.
It surprised me. At first I was skeptical. Life is busy with work, two young daughters and we are moving within a few months. But the sessions and exercises feel like mini holidays, as you spend time together with family. In stead of watching Netflix or read a book alone, you connect to each other practicing mindfulness.
If you want to be happy and feel good as a parent, it is necessary to be mindful of yourself and stay connected to your partner. That is why we want to continu to practice.
– Claudio, father of Fien (8 months) and Noor (2 years old)
***
"The most important skill I learned is acceptance. Acceptance of myself as a parent, of my child and her behaviour, and of the situation. I believe it was in session 2 that we discussed the Serenity Prayer by Franciscus. I understood it then, but now at the end of the course I can experience it too. And that gives me a lot of peace."
– Augustien, mother of Aya (15 months old)
***
Try before you commit?
Join the free webinar on September 1st.